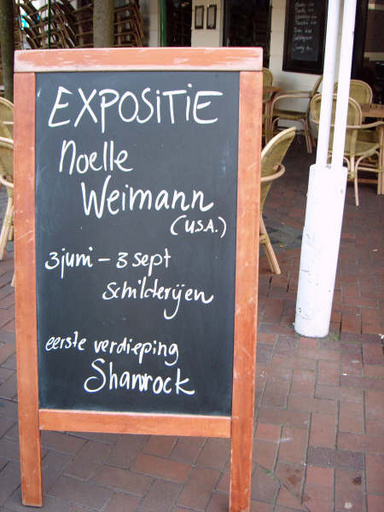 Noelle Weimann 808 Cascade street, Lander, Wyoming 82520 USA, noelleweimann@yahoo.com Education (opleiding) Bachelor of Science Dec. 2005 Southern Connecticut State University, New Haven, Connecticut Major: Studio Art: Oil Painting G.P.A 3.0 Concentration: Art History Honors (erelijst): Awarded the Clifford G. Smith Annual Art Scholarship-SCSU Alumni Association 2002 Awarded the Hank Roberts Prize for Art-FOLIO Art and Literary Magazine- 2002 and 2004 SCSU Dean'€™s List-Spring 2000, Spring 2001, Spring 2005 Skills (specialisme) Visual Art: Painting, Drawing, Printmaking, and General Crafts Design Coordinator: Art Exhibition Layout and Installation Professional Experience (professionele ervaringen) Commissioned Portrait Artist and Custom Artist:
2009 Kindred WindRiver Healthcare commissioned artworks, Riverton Wyoming USA.
2009 Paintings are for sale at Blue Heron Art Gallery, Hudson Wyoming USA
2008 Donated a painting to be auctioned for SARAH foundation
2006 several paintings are property of Albert's Kunsthandel Almelo, the Netherlands
2006 Frontline Ministries, Hamden, Connecticut, USA Commissioned Acrylic Paintings.
1999 current Douglas Matz, Lander, Wyoming,2005 Customized hand painted chest.
Lillian Preston, Madison, Connecticut, 2005 Commissioned mural paintings, personal portraits.
The Global Cafe, Lander Wyoming, 2003 Customized hand painted chairs.
Frontline Ministries, Hamden, Connecticut, 2003 Commissioned oil painting.
Christina Petrovitch, New Haven, Connecticut, 2002 Commissioned portrait painting.
Individual Artist'€™s Advocate Thomas Gattey,Guilford, Connecticut, 2003-current Organized exhibition for an individual with intellectual and physical disabilities. Prepared an artist statement for an individual and photographed current artworks. Related Experience (verwante ervaringen) Professional Assistant Aid to Artisans, Marrakech, Morocco July 2005 Photographed artisans and their products for company inventory. Fine Arts Auction House Personnel Sea Breeze Estate Auctions LLC Branford, Connecticut, October 2005 Managed registration, shipping and sales distribution. Participating Artist Art Space, City Wide Open Studios New Haven, Connecticut, 2000, 2001, 2002, 2003, 2004 Exhibited paintings with other local artists. Design Assistant African Art Exhibition -Herman Copen Collection, SCSU Art Dept. New Haven, Connecticut, May 2003 Organized collection layout and assisted installation. Scene Painter SCSU Crescent Players, New Haven, Connecticut, 2002Assisted in scene painting and design for spring musical. Media Design and Sign Painting SCSU Campus Crusade for Christ,New Haven, Connecticut, 2000-2004 Created club signs and media advertising campus events. Activities (activiteiten) Art Editor FOLIO Magazine 2002-2003 SCSU Featured Artist FOLIO Magazine: 2001, 2003, 2004, 2005 SCSU Participating Artist Senior Thesis Exhibition 2005 SCSU Stage Manager Crescent Players Night of One Acts Spring 2000, Spring 2003 SCSU Club Secretary & Student Leader Campus Crusade for Christ 2000-2004 SCSU